Discover more from Make all the things
What I've been building, what I've been cooking, and what I've been learning.
Speaking in public, mushrooms, and skincare
We're already 8.5% of the way through 2023.
Happy 2023, friends! It's my first newsletter of the year, so I get to still say that. I can't believe January is already over. Hope you've started to make some good progress on your goals for this year.
Some things I'm working on
It was preschool registration week for one of Everyoak's preschools. I've done this enough times that I can do it with my eyes closed, so it went pretty smoothly.
We've started to record season two of the Engineering Advice You Didn't Ask For podcast. Spotify Wrapped said we were in the top 5% most shared and top 5% most viewed (we're an audio as well as video podcast) categories! Stay tuned and I'll let you know when we start to release the episodes for this season.
Finally, I've been invited to speak at a conference this year, so I've been thinking a lot about how that talk will go, and how many memes my slides should contain. It's rather long at 30 minutes, so I'm stressing out a little bit about this. I intend for it to be a storytelling kind of talk to do with software engineering. If you have any advice for me, I'm all ears.
Some things I recently cooked
I think the best thing I've made this month has been a Mushroom French Dip au Jus which we enjoyed on a ciabatta with roast brussels sprouts on the side. I was inspired by this recipe but the actual mushrooms I used were baby portabellos and chanterelles.
The chanterelles were a poor choice - they easily fall apart. I should make this again with oyster/shiitakes.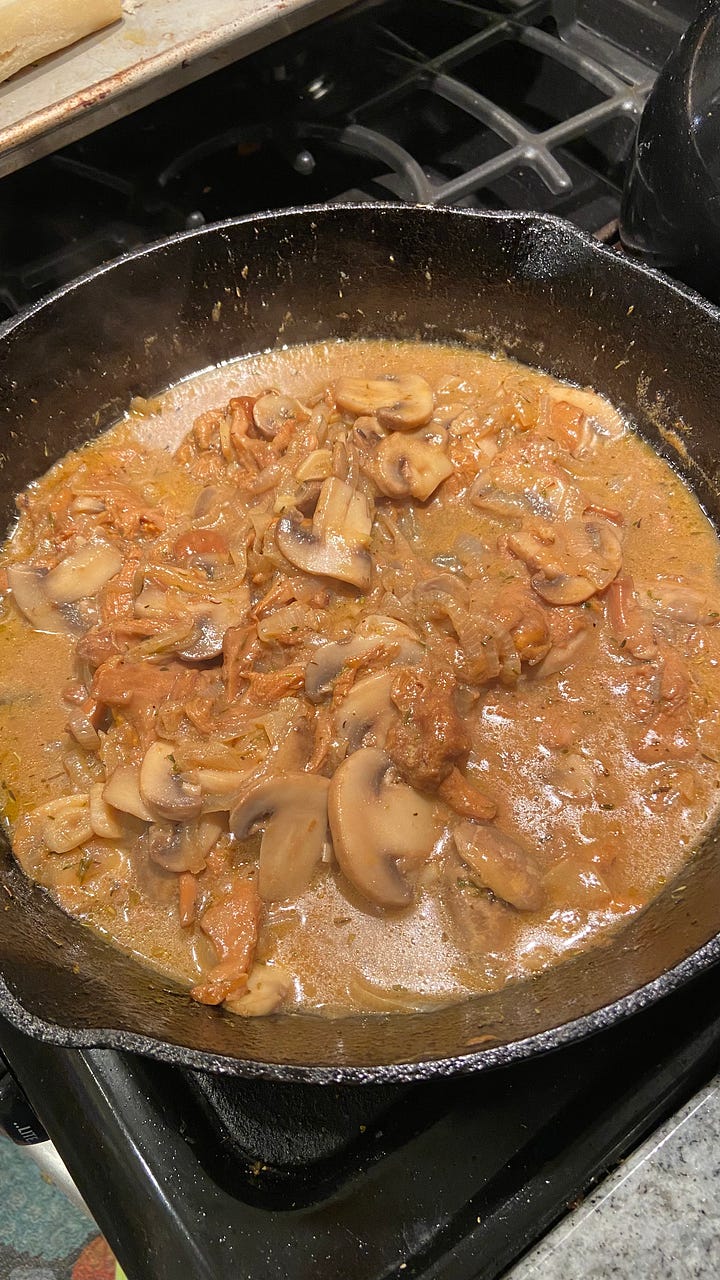 Speaking of mushrooms, I also recently saw this recipe on Instagram, which I really want to pay someone else to feed to me but don't want to have to make it myself.
Some things I've recently learned
Tim had a tweet about his skincare routine, and I asked what all he does, and a ton of people responded to me. One particular response sent me down a YouTube rabbit hole and I ordered myself a skin cleanser, retinoid cream (start slow with this if you do it), and higher SPF moisturizing face cream after watching a bunch of videos from dematologists on which products actually work.
This tweet contains so many actionable pieces of information. If you at all want to get good at SEO, I recommend reading it:
And finally, this tweet introduced me to a lot of very cool MacOS software:
---
That's all, folks. Short one this time. Thanks for reading! Hope you started this year off with a bang.
Cheers,
Vic